─îtvrt├ęho listopadu bude m├şt Prvn├ş pivn├ş extraliga u┼ż p├ít├ę fin├íle sv├Żch degustac├ş ─Źeskomoravsk├Żch le┼ż├ík┼». Leto┼ín├şmi favority jsou Staropramen Le┼ż├ík a Lobkowicz Premium, alespo┼ł soud─Ť podle toho, ┼że jde o v├şt─Ťze semifin├ílov├Żch degustac├ş (1 2 ). Jen┼że zn├íte to, anonymn├ş degustace m┼»┼żou dopadnout v┼íelijak, degust├ę┼Öi nejsou roboti a pivo taky nemus├ş b├Żt v┼żdy ve stejn├ę kondici.
Na v─Ťc se lze ale pod├şvat i jinak. PPE za posledn├şch p─Ťt let absolvovala 33 degustac├ş na┼íich le┼ż├ík┼». V ka┼żd├ę se degustovalo 10 ÔÇô 11 vzork┼», degust├ęr┼» je v┼żdy osm. To je dohromady na t┼Öi tis├şce degusta─Źn├şch v├Żrok┼». M┼»┼żete si o degust├ęrech PPE myslet cokoli, ale p┼Öi takov├ęm mno┼żstv├ş ochutn├ín├ş by se u┼ż m─Ťly projevit n─Ťjak├ę trendy.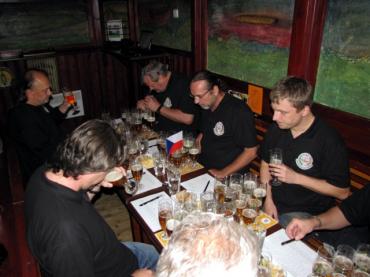 A projevily se tyhle:
1 Svijany 533
2 Krušovice 408
3 Bakalář 397
4 Litovel 376
5 Velk├ę B┼Öezno 361
6 Kozel 361
7 Černá Hora 354
8 Radegast 347
9 Klášter 343
10 Chot─Ťbo┼Ö 332
11 Starobrno 331
12 Konrad 327
13 Louny 318
14 Holba 316
15 Rychtář 304
16 Rohozec 296
17 Budvar 280
18 Zubr 279
19 Gambrinus 272
20 Staropramen 253
21 Bernard 245
22 Záviš 230
23 Primátor 230
24 Pernštejn 227
25 Herold 223
26 Platan 220
27 Lobkowicz 207
28 Bran├şk 195
29 Poutn├şk 190
30 Uhersk├Ż Brod 186
31 Vyškov 185
32 Ostravar 182
33 Otavsk├Ż zlat├Ż 177
34 Prazdroj 177
35 Nymburk 175
36 Je┼żek 162
37 Nová Paka 152
38 Da─Źick├Ż 152
39 Zlatopramen 151
40 Regent 142
41 Chodovar 132
42 ┼Żatec 131
43 Rebel 121
44 Vysok├Ż Chlumec 119
45 Opat 117
46 Trutnov 116
47 Dudák 101
48 Tambor 101
49 Budvar 101
50 Benešov 96
51 Kácov 96
52 Samson 93
53 Král Šumavy 69
54 Pardál 68
55 Eggenberg 58
56 Chebsk├ę hradn├ş 57
57 Zlat├Ż Ba┼żant 45
58 Vratislav 43
59 Ambrosius 42
60 ┼Żejdl├şk 28
61 Petr Vok 11
Takhle toti┼ż vypad├í sou─Źet v┼íech degustac├ş za prvn├ş ─Źty┼Öi ro─Źn├şky (z├íkladn├ş kola a semifin├íle leto┼ín├şho ro─Źn├şku zapo─Ź├şt├íny nejsou). Body vych├ízej├ş z po┼Öad├ş v jednotliv├Żch degustac├şch, pochopiteln─Ť ÔÇ×vzh┼»ru nohamaÔÇť (bod za posledn├ş m├şsto, maximum za prvn├ş). Je to prost├Ż sou─Źet v┼íech z├íkladn├şch kol, semifin├íle a fin├íle.
J├í v├şm, leckter├Ż pravov─Ťrn├Ż piva┼Ö se hrout├ş a ┼Ö├şk├í si, co to je v PPE za pitomce. Takov├ę mohu ujistit, ┼że prvn├şmi p┼Öekvapen├Żmi jsme byli v┼żdy my sami. A ono to tak je u anonymn├şch degustac├ş v┼żdy. Ostatn─Ť proto jsme s nimi p┼Öed p─Ťti lety za─Źali. ─îlov─Ťk m├í za┼żit├ę sv├ę p┼Öedsudky, averze nebo preference, ale kdy┼ż mu d├íte ochutnat stejn├í piva v anonymn├şch vzorc├şch ze stejn├Żch sklenic ve stejn├ę teplot─Ť a v┼íe v jeden okam┼żik, vyhodnot├ş je pak objektivn─Ť a nestrann─Ť ─Źasto ├║pln─Ť jinak, ne┼ż kdyby v─Ťd─Ťl, co se za jednotliv├Żmi vzorky skr├Żv├í.
PPE je slo┼żena z lid├ş s velmi r┼»znorodou pivn├ş zku┼íenost├ş, rozhodn─Ť nejde o partu lid├ş, kter├Żm v┼íem chutnaj├ş jist├ę druhy piv a jin├ę ne. Ka┼żd├Ż do hodnocen├ş vn├í┼í├ş sv┼»j odli┼ín├Ż pohled a teprve souhrnem vznik├í jist├í objektivita. Najdete mezi n├ími slavn├ę sl├ídky i klasick├ę hospodsk├ę piva┼Öe, hlavn─Ť ale sam├ę pivn├ş fandy a za┼żrance. Nebo geeky, jak se te─Ć ┼Ö├şk├í.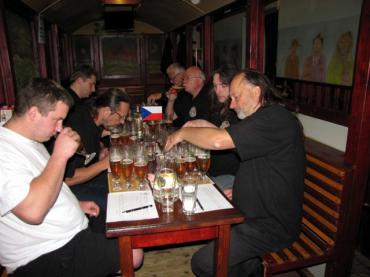 Ochutn├ív├íme ka┼żd├Ż rok v┼íechny ─Źesk├ę le┼ż├íky, kter├ę se daj├ş koupit v b─Ť┼żn├Żch obchodech. Proto tam nejsou mikropivovary nebo zna─Źky, kter├ę prod├ívaj├ş lahve jen u sebe doma. U┼ż napoprv├ę n├ís p┼Öekvapilo, jak pr├ív─Ť v le┼ż├íc├şch, vlajkov├Żch lod├şch ─Źesk├Żch pivovar┼», ─Źasto boduj├ş ty velk├ę, nad kter├Żma jsme u┼ż leckdy zlomili h┼»l. A jak n─Ťkte┼Ö├ş na┼íi obl├şben├ş mil├í─Źkov├ę propadaj├ş, t┼Öeba proto, ┼że nemaj├ş vyrovnanou kvalitu v pr┼»b─Ťhu cel├ęho roku a tedy v┼íech degusta─Źn├şch kol.
Vzorky nakupuje n├í┼í n├íkup─Ź├ş v norm├íln├şch kr├ímech, nikdy jsme nek├Żvli na nab├şdku pivovar┼», ┼że by n├ím pivo dodaly. Jsme spot┼Öebitelsk├Ż test, pijeme pivo koupen├ę za stejn├Żch podm├şnek, jako kdokoli jin├Ż. Proto se stane, ┼że n─Ťkdy vinou mo┼żn├í skladov├ín├ş ─Źi transportu si to n─Ťjak├ę pivo odsk├í─Źe, t┼Öeba kv┼»li jedn├ę ─Źi dvou poka┼żen├Żch lahv├şch. Ale takhle to p┼Öece m├í ka┼żd├Ż spot┼Öebitel, ten taky ned├ív├í milost, kdy┼ż mus├ş pivo vyl├şt nebo dop├şt se sebezap┼Öen├şm.

Tu─Źn─Ť uveden├í piva z tabulky jsou leto┼ín├ş finalist├ę. Nejv─Ťt┼í├şm p┼Öekvapen├şm z historick├ęho pohledu je tedy ur─Źit─Ť Samson Sv─Ťtl├Ż le┼ż├ík. A nejv─Ťt┼í├şmi favority z dlouhodob├ęho hlediska Svijansk├Ż Ryt├ş┼Ö a Bakal├í┼Ö Sv─Ťtl├Ż le┼ż├ík. Rozhodne dlouhodob├í stabilita? Moment├íln├ş forma? N├íhoda? No, uvid├şme. Ostatn─Ť, vy to m┼»┼żete uvid─Ťt taky. Kdokoli se na degustaci m┼»┼że p┼Öij├şt pod├şvat a zkontrolovat jej├ş pr┼»b─Ťh a korektnost. V ├║ter├Ż 4. listopadu od 19 hodin v restauraci Prvn├ş pivn├ş Tramway v Praze na Spo┼Öilov─Ť.
A jak├ęho favorita m├íte vy?
L├í─Ća Jakl, Prvn├ş pivn├ş extraliga