2. semifinále
Známe jedenáct finalistů
Posedm├ę usedli degust├íto┼Öi ve vyhl├í┼íen├ę Prvn├ş pivn├ş tramvaji, aby ur─Źili zb├Żvaj├şc├ş finalisty. Nakonec do┼ílo i k rozpiji mezi Starobrnem a Kl├í┼íterem, ve kter├ęm zv├şt─Ťzil Kl├í┼íter 6:2.
To si ─Źlenov├ę Prvn├ş pivn├ş extraligy oddechli, proto┼że sehnat Starobrno Le┼ż├ík jinde ne┼ż v Brn─Ť a Olomouci je zcela nemo┼żn├ę. M├í to pivovarnick├í skupina Heineken opravdu zaj├şmavou obchodn├ş politiku.

Na degustaci PPE je v┼żdy veselo
Za druh├ę m├şsto Staropramenu n├ís bude asi pivn├ş ve┼Öejnost kamenovat, ale tak to prost─Ť v anonymn├ş degustaci vy┼ílo. J├í bych se mu v reg├ílu obchodu vyhnul velk├Żm obloukem, v degustaci jsem ho hodnotil jako t┼Öet├ş nejlep┼í├şÔÇŽ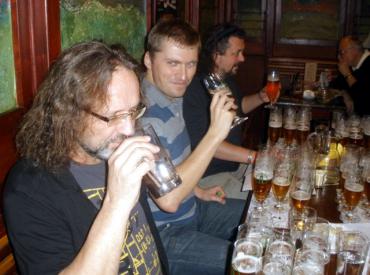 Osv─Ť┼żen├ş smysl┼» vodou
Semifin├íle sledovali se z├íjmem i novin├í┼Öi z americk├Żch Brewing News.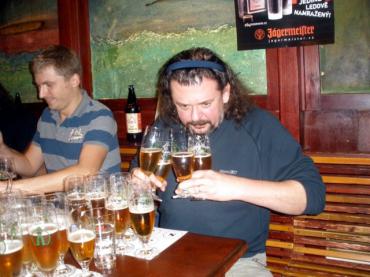 N├íro─Źn├ę rozhodov├ín├ş
Dosa┼żen├í hodnocen├ş ukazuj├ş, ┼że postupov├í hranice pro fin├íle byla 34 bod┼», nejlep┼í├şch bodov├Żch v├Żsledk┼» v kvalifika─Źn├şch degustac├şch dos├íhly Poutn├şk 22 bod┼», Bakal├í┼Ö a Bernard 24 bod┼». Dr┼ż├íkem je Holba, skon─Źila t┼Öikr├ít ─Źtvrt├í, v semifin├íle B (31 bod┼»), v z├íkladn├ş ─Ź├ísti (34 bod┼») a pot┼Öet├ş v z├íkladn├ş ─Ź├ísti koupen├í pod zna─Źkou Ambrosius v Kauflandu, to z├şskala 38 bod┼».

Mix semifin├ílov├Żch le┼ż├ík┼»
Degustace prob├şhaj├şc├ş od b┼Öezna prok├ízaly, ┼że piva z mal├Żch pivovar┼» dok├í┼żou nadchnout, aby o n─Ťkolik m─Ťs├şc┼» pozd─Ťji zcela propadly.
No a jedno doporu─Źen├ş PPE, pokud se chcete n─Ťkomu pomst├şt, m┼»┼żete mu d├ít pod strome─Źek d├írkov├ę balen├ş z Eggenbergu, ┼Żejdl├şku a Krakono┼íe.

Po┼Öad├ş semifin├íle
Po┼Öad├ş semifin├íle B
---
AUDIO

─î├şsla vzork┼»: 1) Staropramen; 2) Bernard; 3) Rohozec; 4) Holba; 5) Bakal├í┼Ö; 6) Poutn├şk; 7) Kamelot; 8) Kl├í┼íter; 9) Starobrno; 10) Kozel
---
---

Postupuj├şc├ş do fin├íle
V├Żsledky semifin├íle A
| | | | | |
| --- | --- | --- | --- | --- |
| 1) | Bernard Sv─Ťtl├Ż le┼ż├ík, alk. 4,7%, nepaster. | Rodinn├Ż pivovar Bernard a.s. | 3,3,3,3,4,2,2,4 | 24 bod┼» |
| 2) | Staropramen Le┼ż├ík, alk. 5,% | Pivovary Staropramen a.s. | 2,4,3,3,4,3,2,5 | 26 bod┼» |
| 3-4) | Bakal├í┼Ö, alk. 5,0% | Czech-Brewery Rakovn├şk a.s. | 4,5,5,3,5,3,3,3 | 31 bod┼» |
| 3-4) | Holba Premium, alk. 5,2% | Pivovar Holba a.s. | 4,6,4,2,3,4,4,4 | 31 bodů |
| 5) | Skalák Premium, alk. 5,3% | Pivovar Rohozec a.s. | 4,5,4,4,5,4,3,4 | 33 bodů |
| 6-7) | Klášter Premium, alk. 5,0% | K Brewery Trade a.s. | 8,5,5,4,5,2,3,2 | 34 bodů |
| 6-7) | Starobrno Le┼ż├ík, alk. 5,0% | Heineken ─îR a.s. | 3,5,3,5,4,5,4,5 | 34 bod┼» |
| 8) | Poutn├şk Le┼ż├ík, alk. 5,0% | DUP Pelh┼Öimov, dru┼żstvo | 5,3,4,4,4,6,4,7 | 37 bod┼» |
| 9) | Kozel Premium, alk.4,8% | Plze┼łsk├Ż Prazdroj a.s. | 5,5,5,4,5,4,5,5 | 38 bod┼» |
| 10) | Kamelot Černá Hora, alk. 4,8% | K Brewery Trade a.s. | 9,3,5,6,5,5,5,8 | 46 bodů |